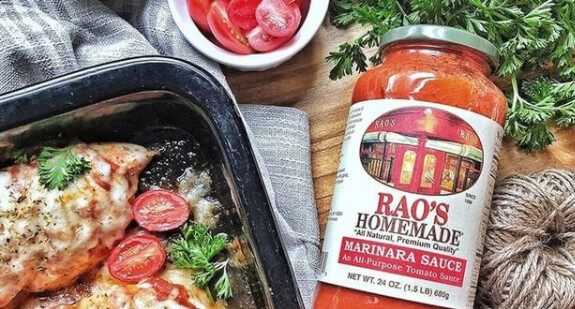 RECIPE OF THE WEEK
Spicy Striped Lasagna
Fat Free Mozzarella
Grated (Locatelli) Romano cheese
LASAGNA NOODLES
Spicy Italian Turkey Sausage:
Italian Meatballs
Part Skim Mozzarella
Part Skim Ricotta Cheese
Oregano
Rao's Arrabbiata Sauce
Rao's Pesto Sauce
Split the ricotta cheese into two separate bowls. In one bowl, add the Rao's Arrabbiata Sauce to the ricotta until it is a nice pink color to make it spreadable. In another bowl do the same with the Rao's Pesto Sauce
Then take the casing off 2-3 links of sausage so can it can be broken up and put in a pan to cook. It doesn't have to be cooked all the way through because it will cook more when we cook it in the lasagna
While the sausage is cooking, heat up the Rao's meatballs in the oven and then mash them up to create chopped meat. Add the Rao's Arrabbiata sauce to half of the chopped meat and leave the other half plain.
Add the plain meatballs with no sauce and half of the sausage to the pesto ricotta mixture. Then add the meatballs in sauce and remaining sausage to the ricotta and arrabbiata sauce mixture
Grate and slice the fresh mozzarella into a plate which will be used to layer in the middle of the lasagna and the top of the lasagna.
To assemble the lasagna add a layer of Rao's Arrabbiata sauce on the bottom of the tray. Then place one noodle on top of that layer with the Ricotta and Raos pesto mixture in the middle and the Ricotta and Arrabbiata sauce mixture on both ends of the noodle creating a striped look. Add the shredded mozzeralla on top. Continue this process until the tray is full.
To finish the layering, add the sliced mozzarella to the top layer and add in the final layer of the ricotta mixtures.
Put the lasagna in the oven at 400 degrees for 35 minutes. Lightly covered with the tinfoil in the shape of a tent so it doesn't touch the striped design.
After 35 minutes, remove the tinfoil and bake for an additional 5-10 minutes.
Add the grated Locatelli Romano cheese and oregano to the top
ENJOY!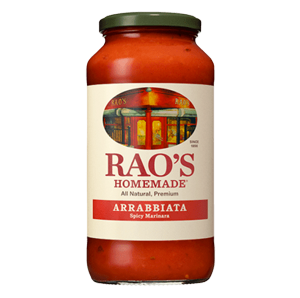 Rao's Homemade® ARRABBIATA SAUCE
Bring home the famous taste of Rao's Homemade® Arrabbiata Sauce. Add a kick of heat to your meal. Arrabbiata or "angry" sauce is a spicy, yet balanced sauce made with slow-simmered Italian tomatoes and crushed red pepper.
---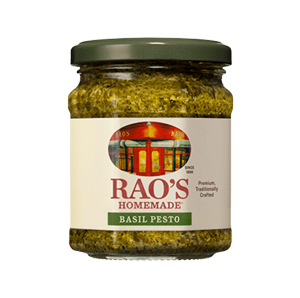 Rao's Homemade® BASIL PESTO
Bring home the famous taste of Rao's Homemade® Basil Pesto. Our classic, basil pesto is a flavorful combination of basil, cheese, oil and nuts.