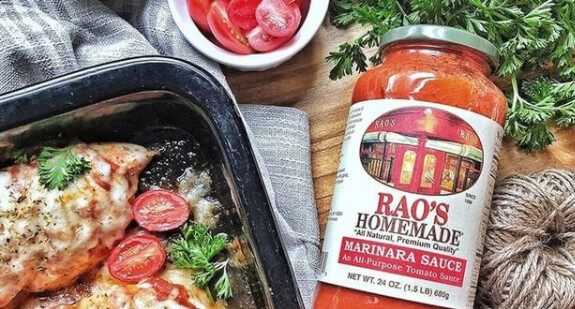 RECIPE OF THE WEEK
Scotty's Rao's Homemade Spaghetti & Meat Sauce
1 Package Rao's Homemade Spaghetti
1 Jar (24oz) Rao's Homemade Roasted Garlic Sauce
1 Cup Chopped Onion
1lb Ground Meatloaf Mix
2 Tablespoons Extra Virgin Olive Oil
In a stockpot/pasta pot, add salt to water before boiling.
In a separate large skillet, add Extra Virgin Olive Oil to coat the bottom of the skillet over medium heat
Once oil is heated, add finely chopped onion, frequently stirring until the onions are translucent. Lower heat and let onions cook out - (About 7-10 mins) Once onions are cooked, drain and return to pan.
Turn up heat to med-high and add ground meat and continuously chop up in skillet and cook another for 7-10 minutes, stirring occasionally until no longer pink
Remove from heat and drain
Return meat to skillet and add 1 jar Rao's Homemade Roasted Garlic Sauce. Mix well.
Lower heat to simmer and let cook on low for about 10 minutes with the lid on.
In the meantime, place 1 package of Rao's Homemade Spaghetti in the boiling water and let boil for approximately 10 minutes.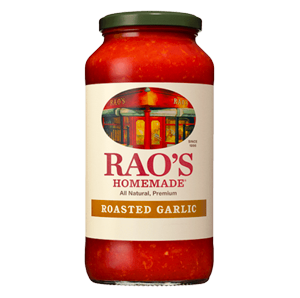 Rao's Homemade® ROASTED GARLIC SAUCE
Bring home the famous taste of Rao's Homemade® Roasted Garlic Sauce. Slow roasted, caramelized garlic is combined with naturally sweet Italian tomatoes to create an aromatic sauce.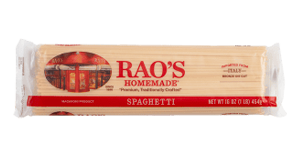 Rao's Homemade® SPAGHETTI PASTA
Our pasta is made with only two ingredients—durum semolina flour and water. We use traditional bronze dies to cut our pasta creating grooves that grab every drop of sauce. Our spaghetti pairs well with traditional, tomato-based sauces, like Marinara.