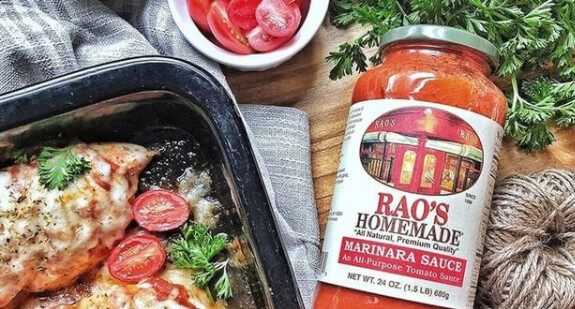 RECIPE OF THE WEEK
Rao's Stuffed Mushrooms
1 TBS OLIVE OI
1 CLOVE, MINCED GARLIC
1/4 CUP PLUS 3 TBS, PANKO BREADCRUMBS
1 LB (ABOUT 16 MUSHROOMS) BUTTON MUSHROOMS
1/2 LB UNCOOKED WITH CASINGS REMOVED. CHICKEN OR TURKEY PREFERRED. ITALIAN SAUSAGE LINKS
3/4 CUP RAO'S HOMEMADE® ROASTED GARLIC SAUCE
1/4 CUP PLUS 2 TBS, DIVIDED PARMESAN
2 TBS, FINELY CHOPPED PARSLEY
2 TBS, FINELY CHOPPED BASIL
First, make the bread crumb topping. Heat the olive oil in a small skillet over medium heat. When the oil is hot and shimmering, add the minced garlic and cook for about 2 minutes until the garlic is golden. (Be very careful not to burn it!) Stir in 3 tablespoons of the bread crumbs and a small pinch of salt and cook for 1 to 2 minutes until lightly golden—no need to brown the crumbs fully as they'll brown significantly in the oven. Transfer to a small bowl or plate to cool.
Prep the mushrooms! Clean the mushrooms by wiping them gently with a damp towel. Mushrooms absorb water like a sponge, so I don't recommend rinsing them under the faucet. Remove the stems from each mushroom cap and set aside. (The stems are going to be used for the filling.) Using a teaspoon, gently remove and discard the dark brown gills on the underside of each mushroom cap. (No need to be a perfectionist here.) Place the prepared mushroom caps cavity side up on a baking sheet or in a large braiser/skillet/casserole dish sprayed with cooking spray, leaving a little bit of space between each one. Finely chop the mushroom stems (I like to pulse them a few times in my food processor until finely chopped) and set aside.
Preheat the oven to 400° F.
Heat a medium nonstick skillet over medium heat. When the pan is hot, add the sausage and cook for about 5 minutes, stirring and breaking up the meat into very small pieces, until lightly browned. Add the chopped mushroom stems and cook for about 3 minutes until the mushrooms are very soft. Reduce the heat to medium-low and slowly pour in the Rao's Homemade® Roasted Garlic Sauce. Cook for 2 to 3 minutes until the sauce has thickened slightly (you want the filling to be very thick). Turn off the heat and stir in ¼ cup of the cheese, ¼ cup bread crumbs, and the chopped parsley and basil.
Toss the remaining 2 tablespoons cheese with the cooled garlicky bread crumbs.
Generously spoon the filling into each mushroom cap and sprinkle the tops with the bread crumb mixture.
Bake the stuffed mushrooms for 25 minutes or until the mushrooms are soft and the tops are lightly browned. (You'll notice a small ring of liquid around each mushroom, that's fine!)
Let the mushrooms cool in the pan for at least 5 minutes—they'll firm up as they cool, which is important. Serve garnished with extra chopped parsley and basil.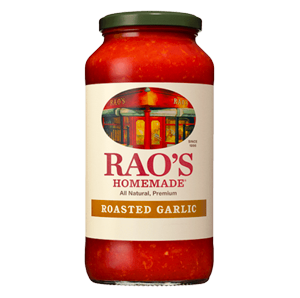 Rao's Homemade® ROASTED GARLIC SAUCE
Bring home the famous taste of Rao's Homemade® Roasted Garlic Sauce. Slow roasted, caramelized garlic is combined with naturally sweet Italian tomatoes to create an aromatic sauce.