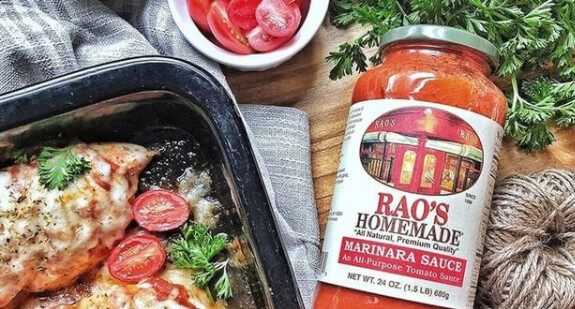 RECIPE OF THE WEEK
Nate and Heather's Just Big Enough Eggplant Parm Lasagna
Olive oil
2 lbs. eggplant, preferably smaller and firmer
Salt
Pepper
1 medium onion, chopped
one 32-ounce jar of Rao's Homemade Tomato Basil Sauce
Parmesan cheese, grated
½ cup chopped basil
½ cup goat cheese
Chopped parsley for garnish
Put a decent layer of oil in your largest skillet (the bigger the skillet, the better) and turn the heat to medium. Start trimming and slicing eggplant: 1/2-inch slices. When the oil shimmers, add the eggplant. Season with salt and pepper and cook, turning as necessary, until nicely tender and browned on both sides; drain on paper towels. Add more oil when necessary.
Cook the onion in the remaining oil; when it's tender, add the Rao's Homemade Tomato Basil sauce and some salt and pepper and cook until saucy, 10 or 15 minutes. Heat the oven to 400.
In your baking dish, add a layer of eggplant, then sauce, then goat cheese, then eggplant, then basil, sauce, and finally the parmesan cheese. Bake until the cheese is melted and the whole thing is bubbly, about 15 minutes. Sprinkle with parsley and serve hot or at room temperature.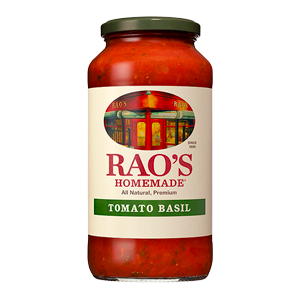 Rao's Homemade® TOMATO BASIL SAUCE
Bring home the famous taste of Rao's Homemade® Tomato Basil Sauce. This versatile sauce combines our slow-simmered Italian tomatoes with the aromatic flavor of basil.