Boozy Beignets Are Now Being Served at Disney World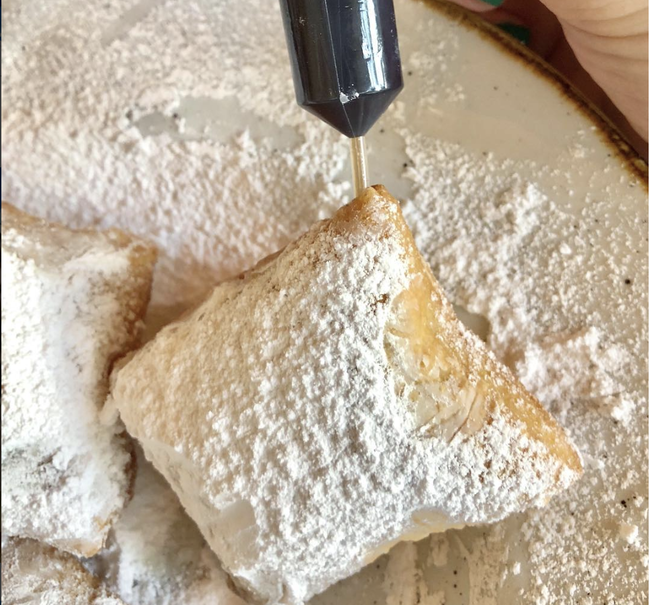 A delicious new treat has arrived at Disney World in Lake Buena Vista, Florida that will make you want to pack your bags ASAP. Boozy Beignets are now being served at the Port Orleans French Quarter resort, offering a more grown-up version of the popular dessert. The dish - officially known as Baton Rouge Beignets - is offered at the New Orleans inspired resort's Scat Cat's Lounge. According to Disney Food Blog, the classic pillow-shaped Beignets are complete with your choice of Baileys, Kahlua, or Rumchata. So many options!
Once you pick which alcoholic beverage you'd like to infuse your beignet with, you'll be presented with a plate of three sugar covered bites of heaven. The dish also comes with pipettes filled with your choice of alcohol stuck in the beignets. Guests get to insert their alcohol of choice into the Beignets, making the dessert even more fun to order. It also means the beignets won't get soggy from being soaked in the alcohol by a pour-over method done by the chefs. Pretty smart.
If you're like me, you probably want to try all three flavors at once. Unfortunately, Disney Food Blog reports that you can only pick one type of alcohol per order of beignets. The dessert is $8 an order with three beignets in each, so, you can always go crazy and order $24 worth of boozy beignets. You know what they say: go big or go home. For the record, though, cast members at Port Orleans reportedly recommend the Bailey's.
If boozy beignets just aren't your thing, Port Orleans rolled out another new type of beignet recently. Traditional beignets got an upgrade to be shaped just like Mickey Mouse, which is *so* Instagram worthy. Park guests can grab these adorable treats at Sassagoula Floatworks and Food Factory at Port Orleans French Quarter resort. In addition to delicious powdered sugars, sweet toothed guests can also order the beignets with their choice of three dipping sauces, including caramel, raspberry, or chicory coffee ganache. Yum!
If you order either of these new dishes, make sure you take a cute Instagram. Remember: if you don't 'gram the beignet first, did you even really eat it?