The Most Popular TV Dad In Every State
Since the dawn of TV, there have been dads portrayed on shows. From the stereotypical suburban father like Leave It To Beaver's "Ward Cleaver," to a much more unique, modern dad like Breaking Bad's "Walter White." With so many different kinds of father figures, everyone seems to have a favorite, but who is the most popular pop in your state? HowToWatch.com did some research to figure it out and you might be surprised by their results.
To get answers, they first made a list of famous TV dads, then entered each one into Google Trends to see which character ranked at the top of each state over the past year. While some states' favorites are interesting, others aren't too surprising.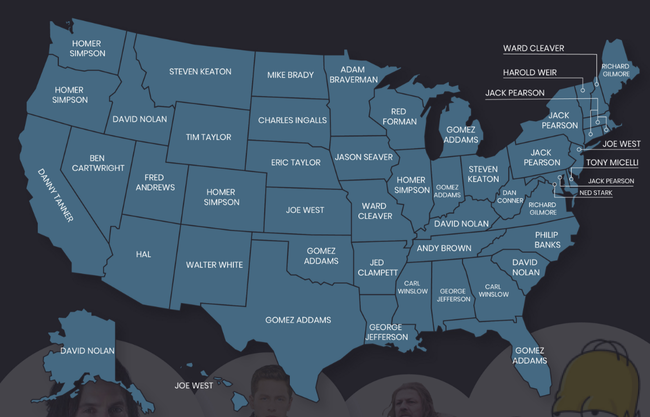 Few dads were more loved than "Jack Pearson" from This Is Us, played by Milo Ventimiglia, who took the top spot in five states - all of them in the Northeast. Fans in Maryland, Massachusetts, New York, Pennsylvania and Rhode Island overlooked "Jack's" drinking problem to call him their favorite.
Another dad that was a favorite in five was a blast from the past - "Gomez Addams" from The Addams Family. Perhaps fans appreciated how "Gomez" supported his children no matter how strange their interests, or maybe they respected his utter devotion for his wife, "Morticia." Whatever it was, he topped lists in Florida, Indiana, Michigan, Oklahoma and Texas.
One other very popular papa - "Homer Simpson." The Simpsons patriarch was the favorite in Colorado, Illinois, Oregon and Washington.
Plenty of other dads were favorites in states from old school pops like "Jed 'JD' Clampett" of The Beverly Hillbillies, to '70s and '80s fathers like "George Jefferson" of The Jeffersons, "Mike Seaver" of Growing Pains and "Steven Keaton" of Family Ties, to '90s dads like "Carl Winslow" from Family Matters and "Philip Banks" from Fresh Prince of Bel Air, and contemporary fathers like "Ned Stark" from Game of Thrones and everyone in between.
See the full list below: