Yesterday, 90s kids across the Internet had mini panic attacks when news broke that the Dawson's Creek cast had reunited for a special edition Entertainment Weekly cover to celebrate the series' 20-year anniversary.
For six years, James Van Der Beek, Katie Holmes, Michelle Williams and Joshua Jackson ruled the teenage melodrama throne with their fast-talking, forwardly sexual plot lines. Joey loved Dawson, but Dawson loved Jen AND THEN Pacey fell in love with Joey. The WB had us coming back week after week to lap. the. sexual. tension. up. (Then there was Pacey's affair with Ms. Jacobs, but that's a whole other article on its own.)
When the series finale aired on May 14th, 2003, we were still left wondering... Will Joey choose Dawson or Pacey?
*SPOILER*
It was Pacey!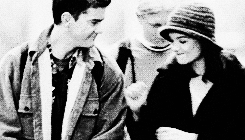 Super D.Creek fans took to Twitter and Instagram to point out a few clues from the EW reunion that have people thinking Katie Holmes and Joshua Jackson are actual real-life soulmates. And they have some convincing points... Both wearing the same hat...
Joshua is touching Katie...
Joey and Pacey forever.