Angelina Alexon has some serious pipes! Is she a singer or a shapeshifter?
This multilingual singer/songwriter not only has the voice of an angel but also can change her voice to mimic the voices of 15 different female pop icons. Ranging from Ariana Grande to Iggy Azalea to Amy Winehouse, she covers pretty much the whole spectrum in this video and nails every single one of her covers!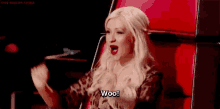 If you're looking to hear all of your favorite female powerhouses in one place, look no further because Angelina Alexon is sure to be your new favorite master "voice-shifter."