Behold #RompHim, The Male Romper... It's Sorta Fabulous!
A fashion revolution is upon us. Behold, the male romper aka #RompHim!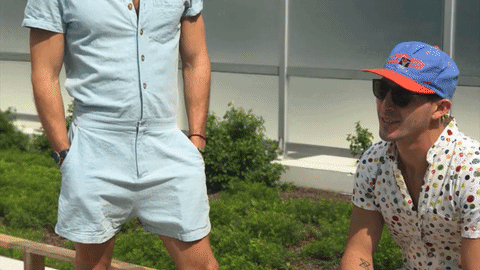 Why should ladies have all the romped up fun?
Aced Design, a fashion company focused on unique apparel for men, has debuted what they are claiming to be the most popular male clothing item of the summer. On the company's Kickstarter page they write, "Turn heads and break hearts when you take your RompHim for a spin."
The novelty item has caught on like wildfire, ripping through the forests of Instagram and Twitter at record speed. So far the bro-brand has surpassed its $10,000 fundraising goal by 850% and is currently just shy of $100,00 with 881 backers.
It comes in a range of colors and patterns, most of the pastel variety with a special 'Fourth of July' edition in the works.
And for the cool price of $95 you can pre-order your very own RompHim complete with a stylish breast pocket, zipper adorned back pocket for security and deep pockets in which to rest your manly hands. If you place your order now, the promotional video says it will be shipped this sometime this summer. The item will retail for $119 after it hits the market.
So... the pressing question: Will you order one?
Twitter remains wholly baffled by the newfangled garment.
We can't wait to see all the sassy bros sporting their festive one-pieces this summer! If it feels right ... ROCK IT, DUDE! Elvis Duran
Want to know more about Elvis Duran and the Morning Show? Get their official bio, social pages & articles on Elvis Duran and the Morning Show!