A Guy's Backhanded Compliment Inspired Hailee Steinfeld's "Most Girls" Hailee Steinfeld stopped by to chat about her new single "Most Girls," which she revealed was inspired by a backhanded compliment!
She explained that when someone says, "You aren't like most girls," it's meant as a compliment, but it's indirectly insulting! "This song deals with so many, I wouldn't necessarily say issues, but conversations that are happening in the world right now with women." She continued, "It stemmed from the comment that guys will make when complimenting a woman, like, "you're not like most girls," and that was said to me recently and I thought about it and as much as I wanted to accept it as a compliment, I thought what part of me is not like the amazingness in most women and all women?"
We also chatted with her about attending the highly coveted 2017 Met Gala. Inarguably one of the fashion industry's biggest events of the year. Hailee has attended the past seven galas!
The see-and-be-seen party is hosted by Vogue's editor-in-chief, Anna Wintour, to kick-off The Metropolitan Museum of Art's annual fashion exhibit, which will feature Rei Kawakubo/Comme des Garçons: The Art of the In-between for 2017.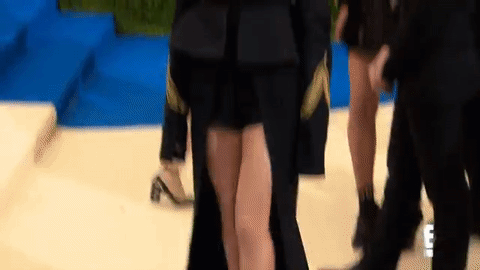 Hailee rocked a sleek top knot and black, three-piece Vera Wang ensemble, straight off the designer's Fall 2017 runway. The Edge of Seventeen actress looked amazing in the high-waisted hot shorts and peplum combo. She topped the look with a gold-sleeved embroidered off-the-shoulder cape. "It's crazy! It's a huge night that really gives us the opportunity to go all out and go the extra mile. And I don't know. It's the craziest!" she said about her Met Gala experience over the years.

"In some ways, because it's the Met Ball, [...] it's your excuse to go all out, and that's what makes it so fun."
The Oscar and Golden Globe-nominated actress just wrapped filming Pitch Perfect 3 to reprise her role as the quirky 'Bellas' newbie Emily Junk. "We jumped right back into it as if no time had passed in between. Crazy to think years had gone by since the last one," she told Billboard.com.
A debut album from Hailee is expected out before the end of the year, but no details are yet official. Steinfeld's 2016 deluxe EP, Haiz, featured her platinum single "Starving," which hit #12 on the US Billboard Hot 100.
Stay up-to-date with Hailee Steinfeld on Instagram, Twitter, and haileesteinfeldofficial.com.
Check out the video + pics for her interview below:

Elvis Duran
Want to know more about Elvis Duran and the Morning Show? Get their official bio, social pages & articles on Elvis Duran and the Morning Show!