There's a Chance 'Gossip Girl' Will Make a Comeback!


Will Gossip Girl be back?
Blake Lively, aka Serena van der Woodsen, may be dropping hints for her co-stars and former producers of the CW's Gossip Girl!
In a recent interview with Variety, as a Variety Power of Women honoree, the mother-of-two said that she is open to the idea of a reunion!
The drama filled, designer dud-wearing teens (now adults) from New York's Upper East Side would be a perfect fit, for, perhaps... Netflix?
With the Gilmore Girls and Full House both having successful second runs on the video streaming service, Gossip Girl part deux would be a natural addition to the revamped collection.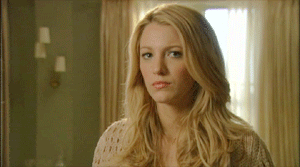 The series, which ran from 2007 - 2012, was added to the Netflix binge-watching roster in the fall of 2012 and has been a steadfast digital resident ever since, attracting a new generation of Blair and Serena lovers.
When asked about the transition to a grown-up Gossip Girl cast, Mrs. Ryan Reynolds gave an in-depth answer:
"It sort of all depends. Would I do seven years of the show? No, because it's hard work and I've got my babies, and I don't want to be away from them that much. But I've just learned in life you never say never. I'm looking to do something that I haven't done yet, not something that I did. But would I do that? Who knows - if it was good if it made sense. We had so much fun shooting and living and working in New York City."
Lively gave birth to her second daughter in September 2016 and isn't the only one from the UES teen crew with kids in the picture now. Leighton Meister had a baby girl with her husband Adam Brody in September 2015 and Penn Badgely just became a step Dad to his wife's, Domino Kirke, 5-year-old son.
What's next on Blake's list of projects until GG hopefully comes back? She has done a series of movies (as well as marrying hubby Ryan Reynolds) since Gossip Girl gave the final sign-off. "For me, it's about good content," she told Variety. "My favorite new things I've seen this year have been shows over movies."
She shared her love for watching small-screen gems Game Of Thrones, Westworld, and The OA. "I would only want to be in a show that I would want to watch."
As for Gossip Girl, we'll have just to wait and see!
XOXO, fingers crossed!
Thumbnail Source: Getty Images